Tandem installation of air curtains
31 May

Posted By
0 Comment(s)
3180 View(s)
VTS company manufactures for its client the curtains that are adjusted to various needs, customising them for different locations. The offer of VTS includes air curtains:
The curtain dimensions available are:
The curtain lengths so selected enable meeting the demand for air curtains in 80% of door openings on the markets where VTS operates. Tandem installation of air curtains enables caring for the comfort of users of door openings characterised by non-standard and often large dimensions. The WING curtains are adjusted for this type of installation.
Where are the curtains in tandem system installed the most often?
Tandem is a system consisting of at least 2 devices, operating simultaneously. In relation to curtains, it is found at places where the curtains of standard length (1m; 1.5m; 2m) prove to be impossible to apply in view of their length, which is usually insufficient or, less frequently, excessive.
The Wing air curtains are fit for group installation both horizontally and vertically, whereas the vertical installation applies to WING W and WING C curtains only. Figure 1 presents the most frequently encountered grouping of curtains.
Fig. 1 Most frequently encountered group installations of WING curtains

Next to the suggestions presented above, it is also possible to combine other lengths of air curtains, i.e. 1m + 1m; 1m + 1.5m; 1.5m + 2m; 2m + 2m, or even combine three or more curtains, depending on the length of the side where the air curtains are installed.
Such a combination is convenient and proves effective also because the whole system is controlled from a single location through a single controller. The WING EC controller makes it possible to control a system consisting of even as much as 8 curtains at the same time, which translates to high efficiency of the "air barrier" system.
Electrical connection
Figure 2 presents the electrical connection of a group of air curtains connected to a single controller.
Fig. 2 Connection diagram 1 – 230V-50Hz power supply*; 2 – main switch, fuses*; 3 – WING W EC curtain; 4 – WING EC controller; 5 – Contactron
*not supplied by VTS
As presented on the diagram, the WING curtain requires 1-phase or 3-phase power supply in case of curtains with electric heaters, which is led separately to each curtain.
Next to the curtain, the WING EC controller requires power supply as well and it can be connected in 2 ways:
1) by using the L1, N outputs that have been specially prepared for supplying power to the controller directly from the curtain (Fig. 3);

Fig. 3 L1, N clamps enabling direct supply of power to the WING EC controller
2) from another, separate power source.
Next to supplying power, we connect the curtain to the WING EC controller using 2 wires with small diameter of 0.5-0.75mm2, which will be feeding the 0-10 V direct current signal. To this end, we use the Ai, G (9,10) inputs (Fig.3). Thanks to that the curtain will operate at a pace which is set by changing the direct current signal value using the controller.
The 0-10V DC signal is led from one location to two (Fig. 2) or even eight air curtains, which testifies to the convenience of leading such a connection. This allows us to avoid connecting the controller individually to each curtain, which reduced the cost of the whole investment. In the presented example with a controller, we also connect the door sensor (contactron), which constitutes optional equipment.
Installation in practice

The installation of tandem curtains/curtain group is very simple. In order to do it, we use the already know installation methods, that is, installation using dedicated holder, available from VTS, or installation pins that can be easily obtained at builder's supply stores.
When performing such an installation, it is necessary to remember to:
1) remove the side cover of the curtain on the side on which the curtains are to be connected
2) combine the curtain together next to each other so that the distance between the devices is at least 2 cm. (Fig. 4)

Fig. 4 Example of installation of two curtain next to each other
Installation examples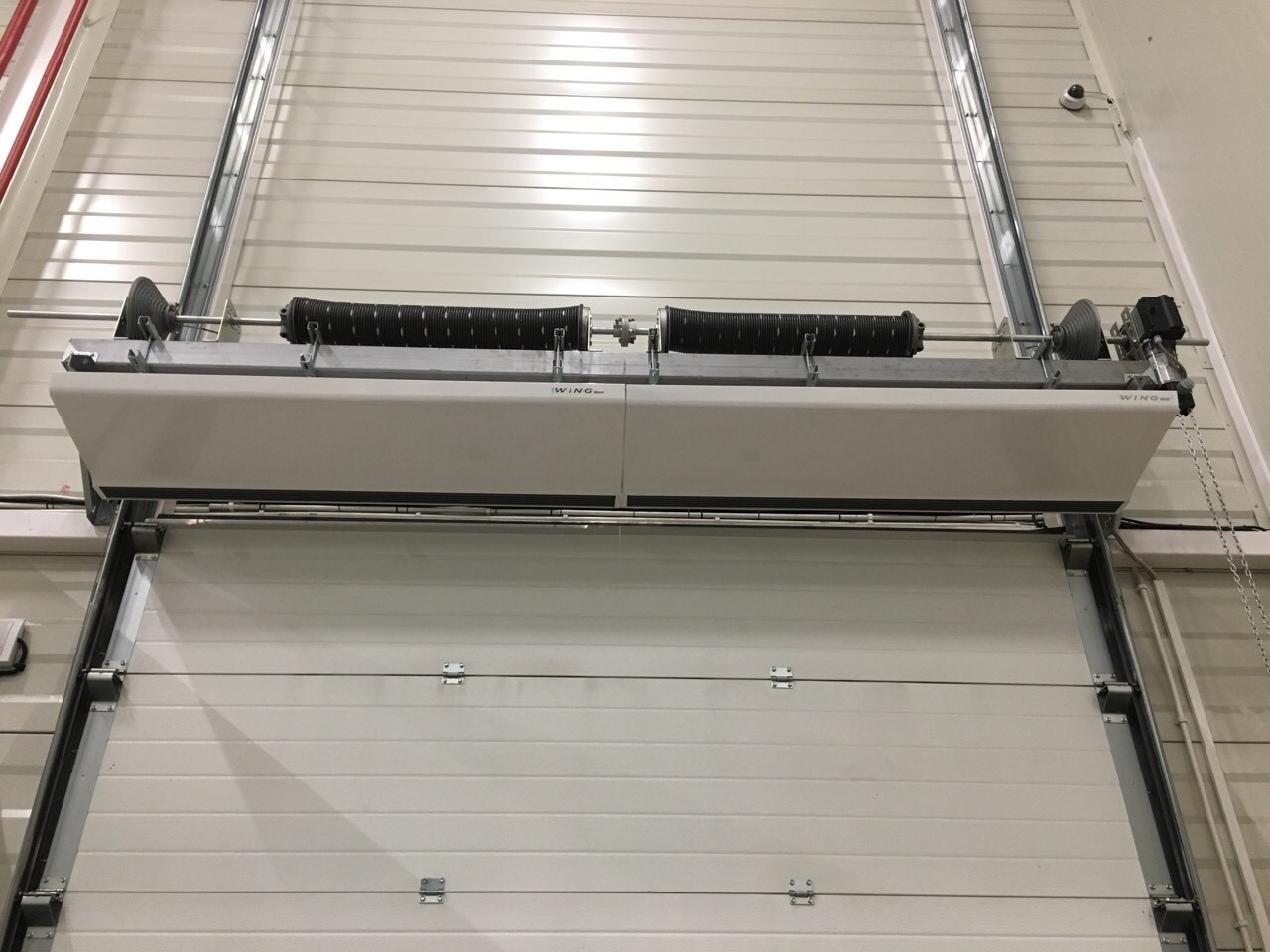 Fig. 5 Horizontal installation


Fig. 6 Vertical installation