VTS starts the air curtains revolution ... again
03 Sep

Posted By
0 Comment(s)
3921 View(s)
VTS starts the air curtains revolution ... again.
Indeed the air curtains market changed at the beginning of 2021. Since March 1st, the long-awaited industrial air curtain WING PRO EC is on sale.
We remember very well the revolution caused by WING air curtain premiere 5 years ago. Now VTS's curtain can be found in most of gas stations, groceries, shopping malls and huge DIY's.
Wing, because of its unique appearance, changed approach to designing utility objects for good.
For some time our clients have signalled the need to extend the offer with curtains with greater power and range. Industrial air curtains constitute a large part of the market, and the WING curtain, with a range of up to 4 m, satisfied only part of its demand - explains Marian Baran, EH Business Development Manager. Responding our customers' needs , as a supplement to the VTS offer, at the beginning of March we are introducing a device for special tasks - the WING PRO industrial air curtain
WING PRO – device for special tasks.

The WING PRO line consists of three basic types: WING PRO C - ambient curtain, without heating function, with a range of up to 8 m and WING PRO W R1 and W R2 with a single or double-row water heating coil with a maximum range of 7.5 m and 7 m, respectively.
When creating the air curtain, we wanted, above all, optimal performance. The WING PRO curtain provides adequate protection against heat loss when opening the gate in logistic centers, factories, or transportation depots. Our goal was to protect gates up to 8 m. Thanks to the possibility of vertical installation, the curtain performs effectively in gates up to 16 m wide. Importantly, VTS provides assembly elements for joining the curtains into modules mounted both ways - vertically or horizontally.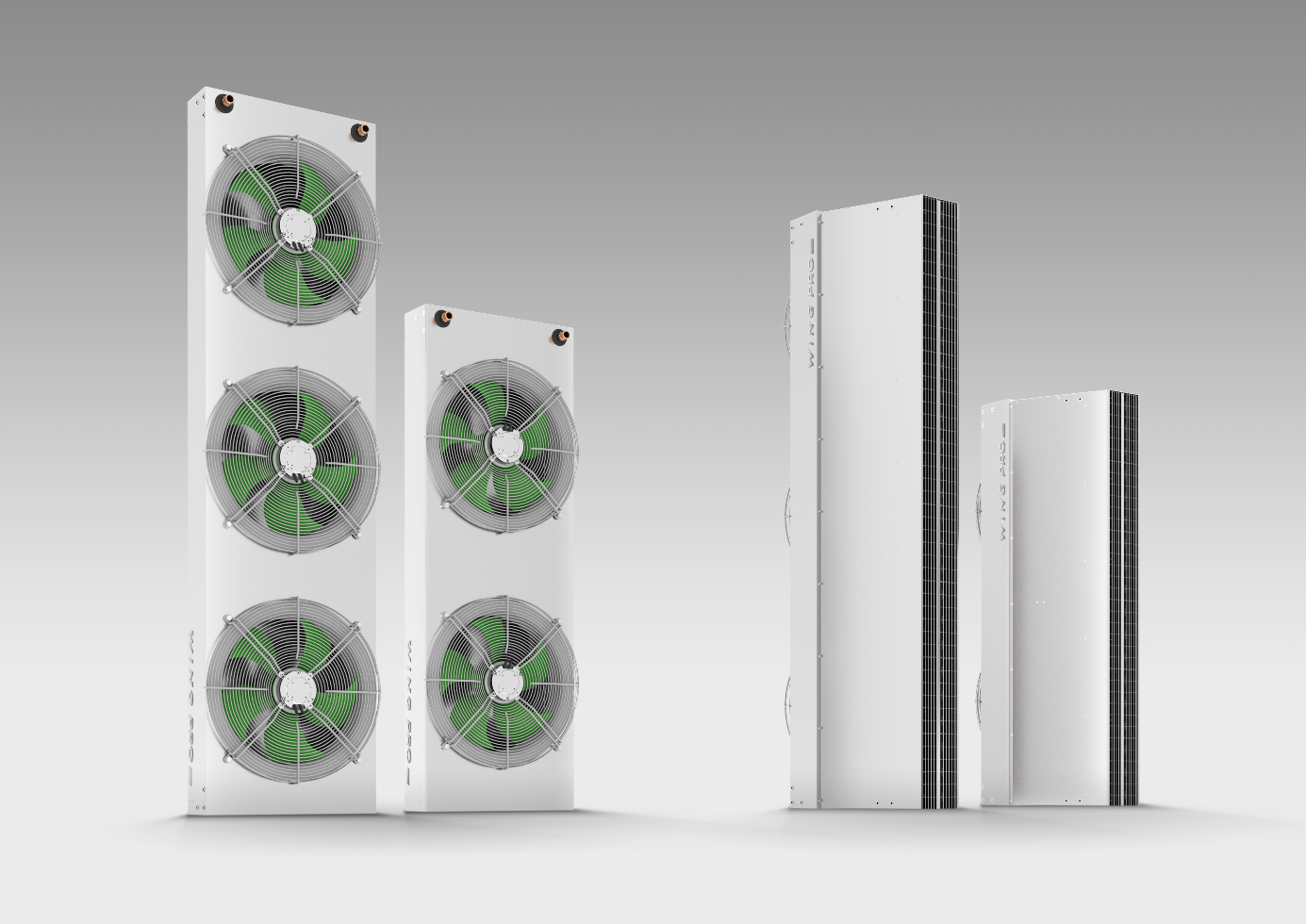 VOLCANO fans and double air stream.

The heart of WING PRO is a set of efficient fans well known from VOLCANO heating units. The air is compressed by 2 or 3 fan sets and heated by a single or double-row water coil. Two rows of exhaust grilles gently directed towards each other create a wide and strong air stream that effectively protects the building against heat loss when the gate is open at a distance of up to 8 meters.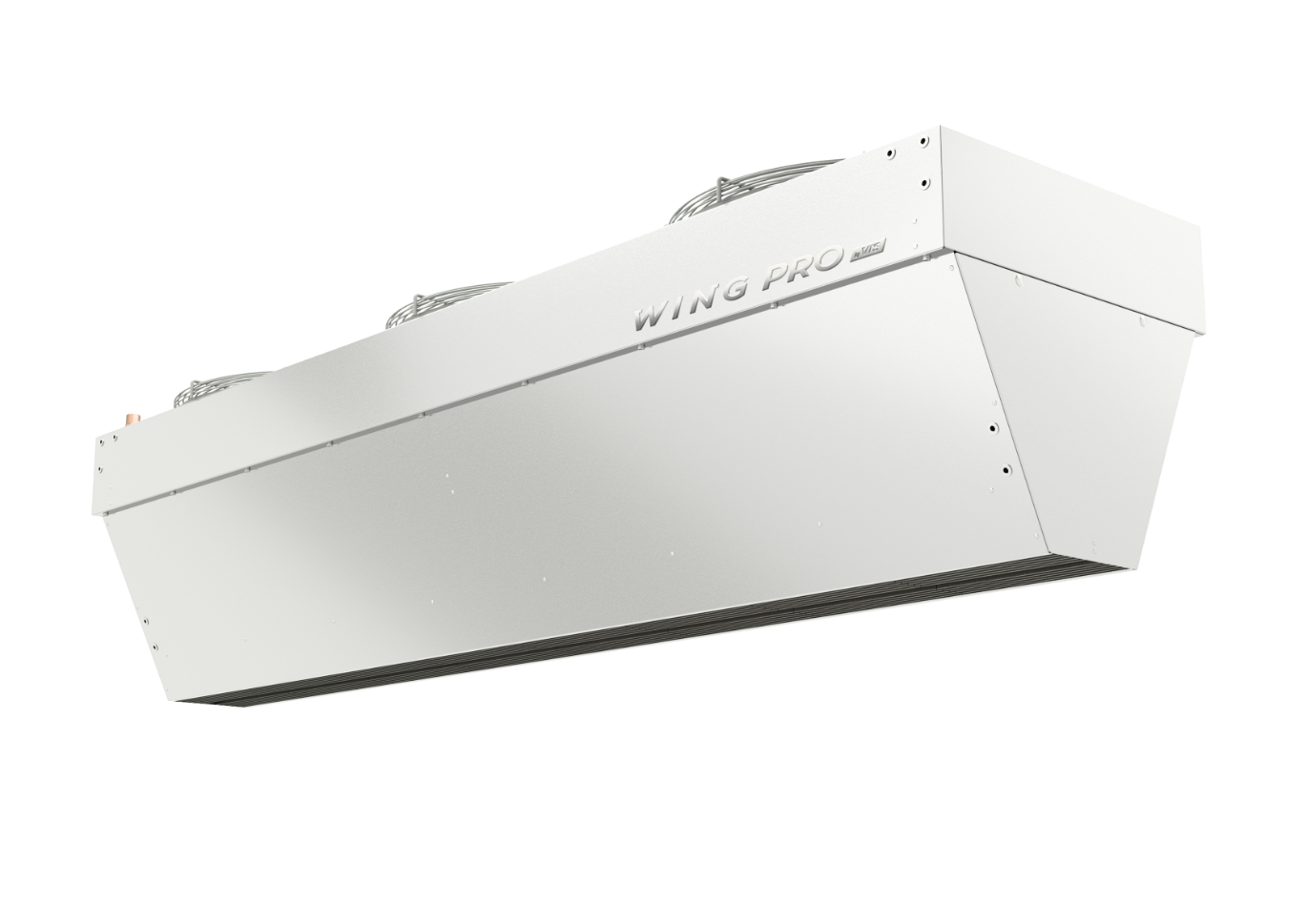 Energy-efficient EC technology at an unbeatable price.
At VTS, we always think economically. From the very beginning, we agreed that performance is not everything. The industrial WING PRO curtain has to become a technological alternative with a competitive price. A well-thought-out selection of components, the use of fans sets from VOLCANO heaters, and proven solutions allow VTS to offer a curtain with a durable, energy-saving motor at a better price then our competitors offers for previous generation motored units. In short, WING PRO is currently the best offer on the market - Marian Baran sums it up.
On March 1st, 2021, we start selling WING PRO curtains with EC motors. We will inform you about introducing the curtains with the AC motor in the coming news.